About us
LPB stands for LSI Package Board. These 3 elements are always inside any electronic device. When new products are produced or for creating competitive products, plan, design, production for LPB went closely coordinated to each other, and we are working hard to aim for win-win. We want to express everyone's effort dynamically, and set up LPB forum with such feelings. At events or on bulletin boards, everyone interacts and get hints for business. LPB forum helps to do these events.
LPB Format
The LPB format is an international standard (EC 63055 / IEEE 2401-2015) promoted by the JEITA Semiconductor Design Technology Subcommittee in order to distribute necessary information and design results for design related to LPB.
Purchase here.
For opening of LPB Forum
Electrical products must be delivered to market on time, and therefore the development term should be as short as possible. Also cost and performance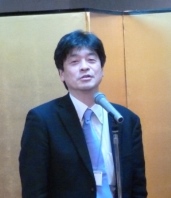 should be optimized to meet customers' demand. Historically the engineering community has been thinking products should be of the highest performance, greatest functionality, and highest quality in order to show differentiation in the marketplace. However, the market is actually looking for products which have a new concept to overcome the existing concepts. The challenge is to provide the product with a new concept, and bring it to the market quickly. A couple examples of this trend we have seen in the marketplace are:
The transition from the PC to the "information terminal" such as a tablet or smartphone. Processing has been changed from local computing to the uploading/downloading process to a central server via Wi-Fi and cloud computing service)
Hardware that matches the content (hardware specs that are optimized for music, video, book-by-book basis)
Producing a change like such as these is due to marketing and product planning initiatives with a focus on users and applications. To develop conceptually new products, we must consider how to realize the creation of the product while looking at the whole LSI, package, and board. By providing the LPB forum, we want to create a place where ideas that can produce innovation can be gathered in a community that anyone can join.